Deep in our souls there's a longing for God. Often it's almost silenced by the busyness of our days. But it's there. A quiet aching, an unrelenting desire. A soul craving that only God can satisfy.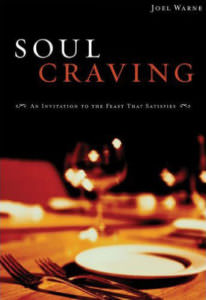 Soul Craving is an invitation to feast on true spiritual food—essential practices and postures of the heart that help us develop loving intimacy with God and satisfy our longing for him. With humor, stories, anecdotes, and classic Christian wisdom, author Joel Warne encourages you to take your place at the feast!
Topics include:
Bible Meditation
Prayer
Transparency
Surrender
Rest
Belovedness
Listening
Worship
Suffering
Purpose and calling
Inner Responsiveness
Spiritual Community
So come to the feast!! There's a place spread just for you!
buy the Soul Craving book – personal or group use
---